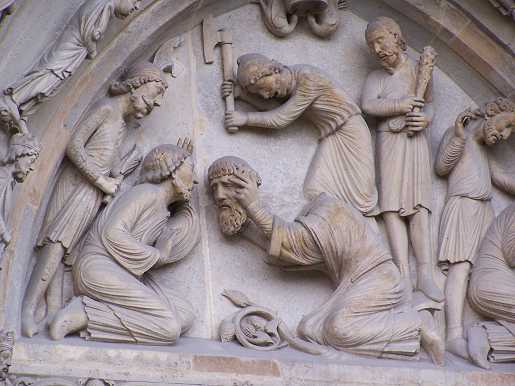 Above the back door to Saint-Denis showing the beheading of the saint. Below the inside of the basilica.
Denis denied the divinity of the Roman emperor. So, along with two others, he was arrested and taken to the temple of Mercury, on the hill now known as Montmartre, and beheaded.
Nothing unusual so far, you say. People were mutilated and beheaded, according to the laws and customs of the time, regularly. What made this particular beheading rather different was the attitude of the beheadee (this may be a new word, forgive me, but it does fit). Quite simply he picked up his head and walked!
First he washed it in a nearby stream, and then walked a further 6000 paces carrying his head. Then he lay down and died.
It is not recorded what the bewildered Roman officials though of all this kerfuffle. Anyway the spot where he died became a holy place for Christians. They visited it at first in secret and quietly, as the religion was still outlawed, but in time Christianity gained popularity, and soon became the common religion, so they visited openly.
Then in 451 Genvieve, a Christian, had a vision. At this time the Huns, led by Attila, had overrun large parts of Europe, and were heading for Paris with nothing in their way to stop them. People had already started to flee from the city. But in Genvieve's vision she saw that the Huns would not enter Paris, and she urged the people to stay in their city.
They stayed, and the Huns moved south to the richer pickings of the Loire valley, and their eventual defeat, but that's another story. Genvieve converted the current king, Clovis, to Christianity. And around this time a church was built over the spot where Denis was buried.