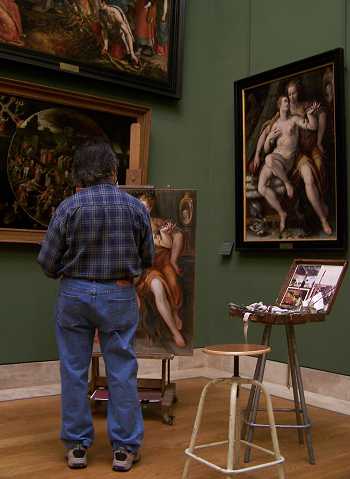 On the left is the main entrance to the Louvre, under the largest glass pyramid. This photograph was taken as it started to get dark outside. It is while they were digging for the construction of the pyramids that much of the Medieval Louvre was uncovered. Now you can walk round the original Louvre. Below is a model showing what it would have looked like.
And, unbelievably, if you pay French tax you can claim about half this money back on your tax form! The card also gets you discounted entry to some other museums in France, so it is a bargain.
As you can seen from the photographs of the outside, the Louvre is a beautiful building. On the inside you can overdose on all kinds of art. Above you can see just part of a ceiling, showing that it is just as beautiful on the inside too. And that is not even counting the contents. I've been more times than I can remember, and I still have a lot I want to see.
Free guides and maps to the Louvre
Whatever entrance you use don't forget to visit the main information desk - sometimes it is so crowded that you cannot see it for visitors, but it is below the main glass pyramid. There you can pick up a really good free map in around 10 different languages, and other free stuff, such as guides to special exhibits etc.
If you visit the Louvre you will come across artists copying paintings, like the man on the right. This is more commonly seen on the second floor, as there are fewer visitors. These artists or students have been given special permission to copy paintings, and the only stipulation that the Louvre make is that the copy should be a different size to the original.