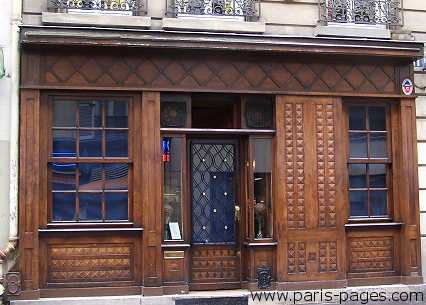 If you continue up rue Delambre you will come to Edgar Quinet metro station. There is an art market here ever Sunday where around 120 artists display their work for sale, and the prices are still affordable.
And towering over everything is Montparnasse Tower. Though the building is ugly there are marvellous views from the roof, and from the cafe below you can get the best photographs of the Eiffel Tower. Just below this is the restaurant Ceil de Paris which also has spectacular views. The Mont in Montparnasse comes from the huge pile of rubble that was placed here over hundreds of years from the local quarries. From 1910 until WWII Montparnasse was the fashionable place to be if you were an artist, writer or intellectual. After this the fashionable spot moved a kilometre or so north to the area around St Germain des Pres.
Cemetery at Montparnasse
On the left is the grave of Jean-Paul Sartre (1905 - 1980) and Simone de Beauvoir (1908 - 1986)in Montparnasse cemetery, located just across the street from the Edgar Quinet metro station. Samuel Beckett, Serge Gainsbourg, Camille Saint-Saens, Maupassant, and Baudelaire are among the famous buried here.
The Cemetery at Montparnasse opened in 1824. Maps showing the locations of graves of the famous are available at the entrance. There are 34 000 graves spread over 19 hectares.