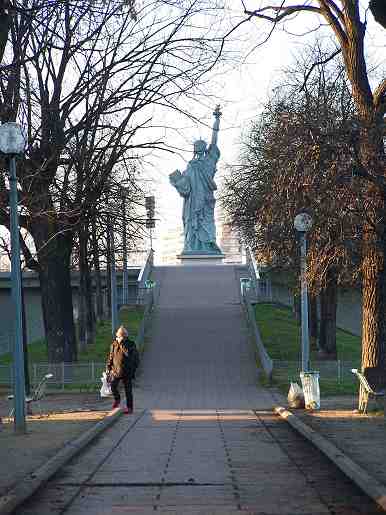 Yes, that is the Statue of Liberty, but this is in the heart of Paris, nowhere near New York.This is just one of many copies of the famous statue the french presented to the USA located in Paris . This one lies at the end of a pedestrian walkway down the middle of the Seine running between the Pont de Bir Hakeim and Pont de Grenelle. This is a wonderful walk. The Seine flows on either side, there is no traffic, there are benches on both sides, and in the hot months there is a breeze off the river. Naturally it is very popular with dog walkers, joggers, and locals, both night and day. It is said that it was the favourite after-dinner walk of Samuel Beckett and James Joyce.
On the right you can see a bit of old Paris - a bath and shower house. I don't know if it is still in operation, but it is a lovely old building surrounded by ugly new ones, so it would be nice if it could stay. Note the fish-shaped lamp holder. It is located at Place du General Monclar.
Below you can see the rather imposing entrance to the Parc Georges Brassens in the south of the 15th. The reason for the two large bulls is because the park was built on the site of a slaughterhouse, which until recently supplied the whole of the left-bank with meat. The Parc has a small vineyard, a bee hive, and a fragrant garden for the blind.